Check out our YouTube page to see what is happening and what's to come for kidsLife.
Welcome to kidsLife, we can't wait to connect with you!
kidsLife is a ministry of introducing and growing children in the love of Jesus. Meeting each child where they are at developmentally; a place to have a safe and loving experience learning how to walk with the Lord.
It is our goal to team with you; to be a resource as you teach your kids about the power of Jesus and His love. You are the vital, everyday teachers, of how to live out your walk of faith, and we are here to support you.
Safety & Security
Your child's safety is our first priority!
All kidLife volunteers pass a background check and we also have a security team in place to ensure your child's safety during services.
We have an electronic check-in system and only parents/guardians listed on the enrollment forms are allowed to pick up your child.
We also have a number paging system for the infant/toddler room, so you can be notified if you're needed during service.
Class Info
Classes for:
3 years old - 5th grade
kidsLife Service Times:
Sunday's @ 10:00 am
*we offer childcare for infant thru age 2 in our infant & tot room*
Curriculum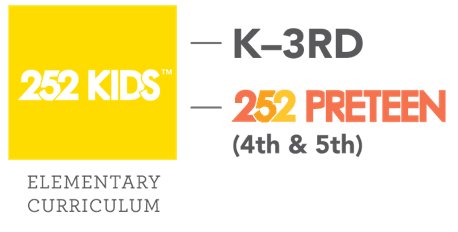 Here at kidsLife, we use the Orange Curriculum, specifically 252 Kids. It engages kids, partners with parents, and equips our volunteers.
We want our kids to grow up making wiser decisions, building stronger relationships, and developing a deeper faith in Jesus. We want them to be excited to come to kidsLife every Sunday!
Questions? Email our Family Ministry Coordinator.